Ross County S.H.I.P. Program
<![if !vml]><![endif]>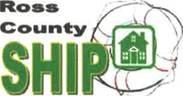 The Senior Home Information Program is a FREE home safety service offered to all Ross County seniors, ages 60 years and over regardless of income.
S.H.I.P. is a voluntary service that provides a free home safety inspection to identify features in your home
Senior Home Information Program which might make your residence susceptible to burglaries, fires, or injuries due to falls. Qualified law enforcement officers, firefighters, retired or experienced service professionals and occupational therapy student interns will collaborate to conduct the inspections. They will then advise you of the steps you can take to remove or reduce hazards which put you at risk. In some cases S.H.I.P. volunteers will install safety devices, which at no cost to the participant that will help the senior be safer in their home. Some of the items that could
be installed are smoke detector, carbon monoxide detectors, 911 emergency beacons,
bath mats, night-lights. Agencies involved, Ross County Sheriffs Office, Chillicothe Fire
Department, Area Agency on Aging, American Red Cross and Shawnee State University.
<![if !vml]>

<![endif]> To schedule your FREE home safety assessment or to get additional information call one of the following SHIP partners...
Glenda Cornett
Deputy Dave Weber
Ross County Sheriffs Office
740-773-1186
Ext 163